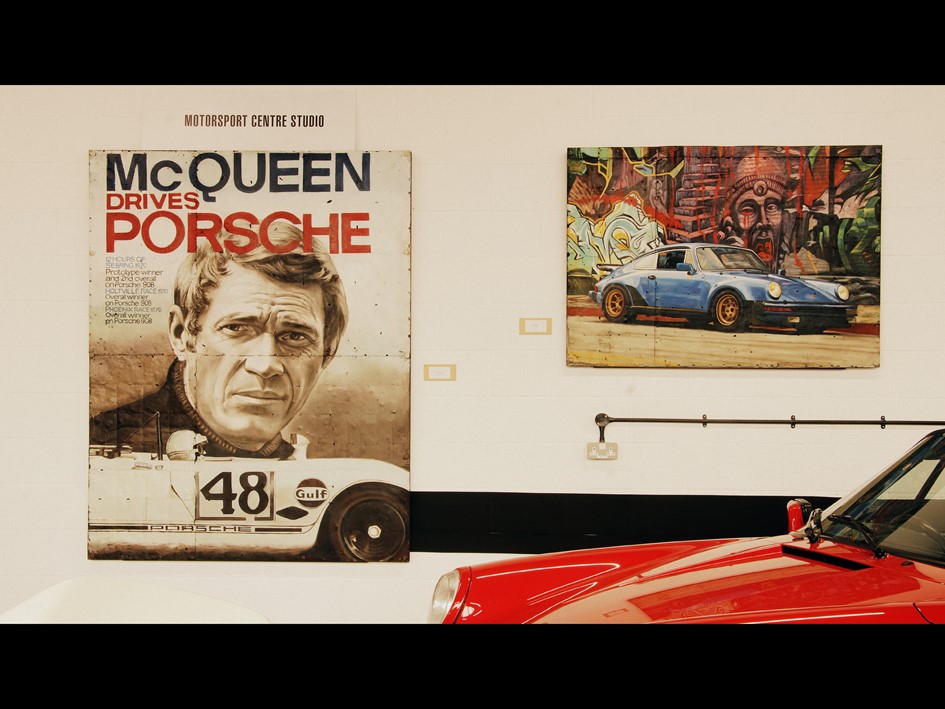 27 Nov 2018
But is it art? Yes, absolutely!
Not content with recently opening a brand-new service department, here at BS Motorsport we are also turning one wall of our new facility into an eye-catching artwork gallery.
First to grace the appropriately minimalist concrete blocks is this striking pair of images from Racing Steel in Belgium. Hand-painted on sheets of recycled metal attached to wooden battens, and deliberately retaining the battle scars of their previous lives – including rivets, welds and rust holes – they genuinely transport the viewer back in time to an earlier, simpler period, and will surely enrich any garage or living-room. They certainly add a note of understated style to our bright and airy workshop.
You can buy them, too – and others in a similar vein. City Blues, depicting an iconic air-cooled 911 Turbo, is priced at £1650, and the atmospheric Steve McQueen 'poster' is listed at £1950. To view them 'in the metal', so to speak, call Nicole Parish at BS Motorsport on 01296 658422, or Stephane Jansem at the Motorsport Centre in Harpenden, Hertfordshire (motorsportcentre.co.uk/studio). Stephane's number is 01582 941981. Racing Steel's own homepage is at racingsteel.be.
And either Nicole or one of the other members of the BS Motorsport team will naturally be delighted to take your booking for either menu-based routine servicing or more complex repairs on any Porsche vehicle – up to and including the nut-and-bolt, bare-metal restorations for which we are deservedly famous.